Articles /
Reliable Help In Emergency, Not Just Fire Fighting
ABC is a co-operative society with a few commercial establishments. It is housed in a recently built multi-storeyed complex.
Members of ABC Co op Hsg. Soc. are generally well to do & happy but with a few problems.
Whenever there is a power failure, important appliances like refrigerators, air conditioners, computers won't work. Small businesses suffer. The lift won't work. Mr. Ved a heart patient living on the 13th floor gets anxious.
Some time back their was fire in the society, causing extensive damage to property and even life. The cause of fire is not clear. But reason behind the extensive damage was the failure of captive fire fighting equipment to start.
ABC's case is not isolated. Installed fire fighting systems not well maintained, are rarely used and fail to start during real emergencies.
Fire & Power failure cause avoidable catastrophes in Industrial and Housing complexes. For safety and convenience a good complex needs
A well maintained fire fighting pumpset AND
A generating set.
PLURODRIVE is one solution to the above problems. It facilitates the unique combination of a fire water pump with a diesel generator on a common base frame with a single diesel engine. So a single point response in emergencies, a disaster fighter in real sense, and not an unreliable fire pump set or a DG set. The diesel engine driven fire pump cum generating set installed as a single unit gets used oftener and is automatically maintained in good running condition. The beauty of the set is that one can use it only as a dedicated fire pump or as a dedicated generator.
The PLURODRIVE is a mechanical power transmission drive unit where only one diesel engine is connected to it. The drive has multiple outputs to which various driven equipments (viz. water pump, alternator, compressor, blower, crusher, mixer, welding alternator, conveyor, etc.) are connected.
The assembly of diesel engine, then the PLURODRIVE, then the fire pump and the alternator are mounted on a common frame.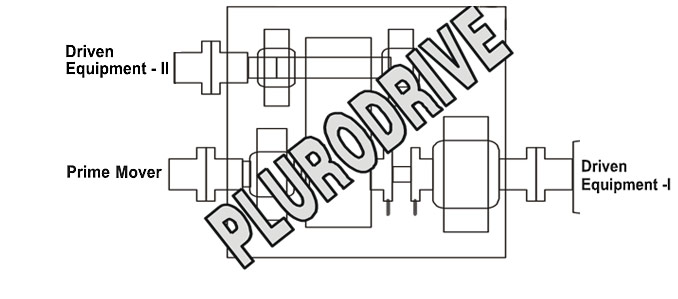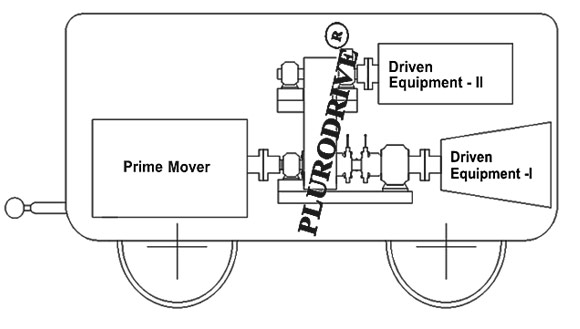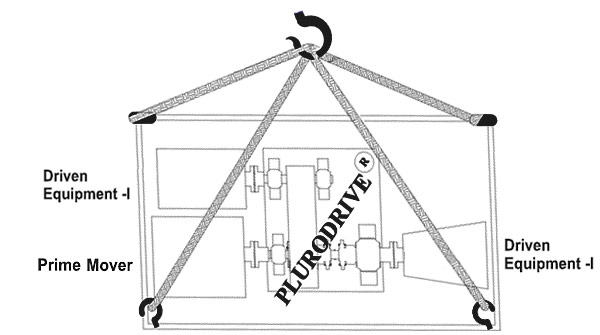 The arrangement now makes it possible for independent transmission of rotary power from the diesel engine to the pump and / or the alternator, alternately or simultaneously. One thus gets water at required pressure and quantity for fire fighting from the pump and / or power from the alternator.
The set can be trolley mounted and towed or simply base mounted to facilitate easy lift and shift.
One gets two or more uses from the same prime mover resulting in many advantages such as optimum utility of equipments, lower space, capital and maintenance cost, better fuel efficiency, more reliability, easy checking and maintenance of equipment, etc.
Classic example of a set installed in an industry near Mumbai is as under
One assembly of
Diesel Engine - 160 BHp.
"PLURODRIVE Sim-alt" Multi output – single input power transmission drive
Fire Pump - capacity 273 M3/Hr v/s. 70 mts. head
Alternator - 125 KVA, 3 phase
The installed set works as below
Power Failure

Engine runs only alternator at its full capacity of 125 KVA.

OR

Fire Emergency

Engine runs the Water Pump for 273 M3/Hr v/s. 70 mts. head to fight the fire and has enough reserve BHP for running the alternator to give 30 KVA.

OR

Both the driven equipments are idle and only diesel engine is running to check its maintenance. This is a distinct advantage offered by PLURODRIVE facilitating easy checking of the equipments, before / after maintenance.

OR

Fire emergency

If no power is required, run only the pump with the engine, while alternator is kept idle.
Change over is done manually by a simple lever mechanism.
Note : Genset Power ratings are as per IS10002 / BS5514.
P.S. : Output from alternator in simultaneous mode (running both pump and alternator) will depend upon engine capacity and condition.
Similar sets with different configurations have been installed at various places. The engine, alternator and pump can be any reputed make.
Mr. Dhuri, Manager of Mazagon Docks Ltd. says "The PLURODRIVE is extremely useful to us with higher reliability & convenience of operation. It has given us trouble free operation since its installation."
Mr.Deepak Kudalkar of Filler India Ltd. claims " PLURODRIVE has saved him from capital expenditure on additional equipments, saved space and increased overall reliability of the system".
PLURODRIVE has been extensively tested. The set needs to be installed in one room near the water tank, against two separate rooms required by a diesel generator and a fire water pump.
"In my four and half decades of experience I have seen umpteen diesel engines especially in fire fighting systems languishing due to lack of use. PLURODRIVE is just what I have been waiting for, to cut cost AND increase engine utility and reliability. We did not take much time to decide on purchasing." This opinion of Mr. P. Muzumder, general manager (projects) at H.D.O.G. Ltd. is echoed by many in the industry and Our customers include Reliance, G. E. Shipping, Parshwanath Petro-chem, Mittal Petro, Bee-Am Chemicals, Mazgon Dock Ltd. , Mumbai Municipal Corporation, Ruby Mills, Aarti Industries Ltd.,L&T,Unity Infra, Patel Engg., etc. etc.
Additional information on PLURODRIVE can be got from the site http://www.plurodrive.com
Write to
:
M/s Jaydeep Engineering Co.,
117A, N. M. Road, Fort, Mumbai 400 001,
Tel No.
:
91 - 22 - 2267 0566 / 2267 3590
Fax No.
:
91 - 22 - 2267 6605