Products /
Water Supply System
/
EWaDS
EWaDS [Engineered Water Distribution System] for Energy efficiency, Lower capital costs and other advantages
Man made means of water supply are as old as civilization itself. Over time, more and more sophisticated ways to deliver water to the end point have been employed. Improvements and innovations have happened in this long journey and will continue to happen in future.
With great pleasure We wish to inform You that We have also contributed our bit to this journey. Our "EWaDS" [Engineered Water Distribution System] is one such innovation.
HPN tanks are required in a hydro pneumatic system. "EWaDS" eliminates the need for HPN tanks even where DOL or Star Delta starting is employed. It is an improvement on a contemporary HPN system in more than one way. It can be installed in residential, commercial or industrial establishments, towers or bungalows, ships, offshore, et al.
It saves in capital cost, space, construction aggregate, power when in use, etc. We have been very conscious of the environment while devising this system. It will improve the project's "GREEN" rating considerably.
Shown below is a very common example of an HPN system, installed for a residential building, a comparison with "EWaDS" is also set forth.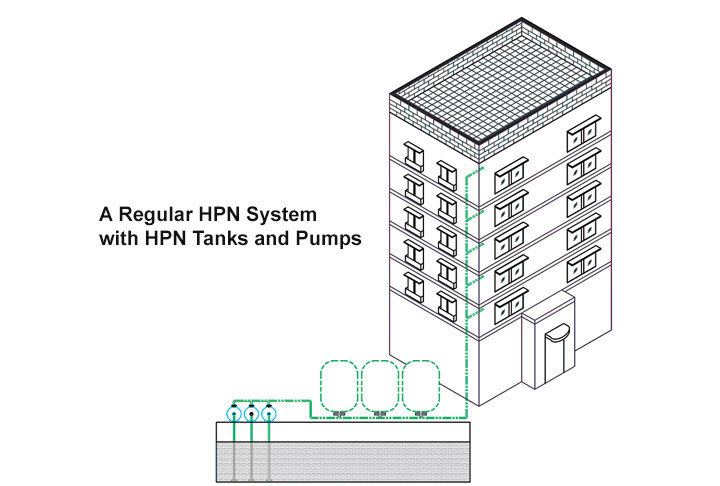 The EWaDS results In Following Advantages To The User / Customer
Very cost effective. Lower capital & running cost.
Storage volume efficiency is anything between 80% and 250% higher [depending on user parameters].Thus system efficiency is vastly improved, lesser power is consumed.
Balanced supply across the entire perimeter of the structure.
Pressurised water at higher efficiency compared to any other HPN system.
Required Pressure rating of the storage buffer is far lesser than the tanks of a comparable HPN system.
The buffer storage can be adapted to suite the layout, architectural plan, elevation, design & aesthetic features of the structure. It can be made to blend with the surroundings.
Lower weight on the structure.
No need for pressure tanks. Releases precious space and encumbrances.
Maintenance issues related to diaphragm tank are eliminated.
Faster response to spurts in demand, saves in pipe sizing. Lower friction loss.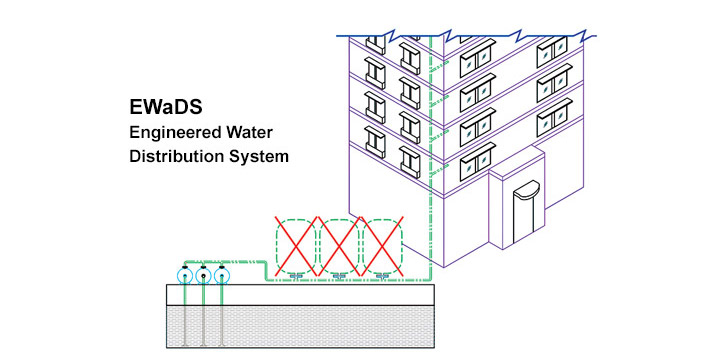 For specific details of the system please send following information about your project
Height of the structure, pressure ratings considered.
Peak, average and minimum demand and the timing thereof.
Total daily water usage and Under Ground tank capacity.
Number of delivery points.
Any other relevant information.