Products /
Jeco Service Workshop
/
JECO Service Van
The JECO Service Van is a Mobile Service Unit built on the truck or vehicle as shown below .Typical vehicles used are 407, 407 turbo, 902, 911, 1112, 1212, 1612,etc can also be built separately in a standard 20 or 40 feet container & then mounted on a truck & vehicles such as 1611, 1613, 2516 can be used.
The JECO Service Van is self contained, in that it carries it's own DG and compressor for running the various electrical and pneumatic service tools. It is well lit up and suited for service personnel to work inside in the service workshop .A sturdy and specially designed work table, cupboard, are among the many equipments designed and supplied inside by us. It does not require any external electrical supply.
The technology is developed in-house, is pending patent grant. It also uses the patented power transmission device "PLURODRIVE". Resulting in several user friendly features and extremely economical operation. Please write to us with Your detailed requirements, We shall get back to You with all the necessary information.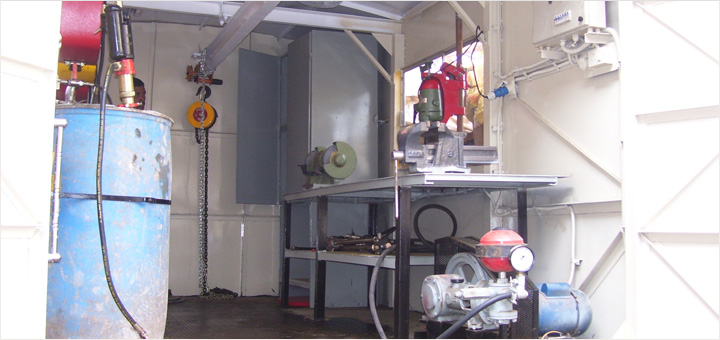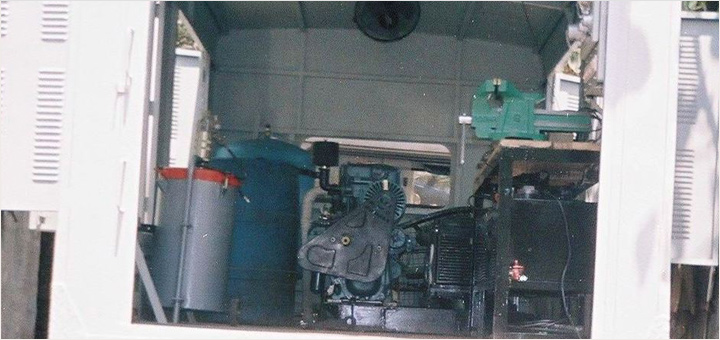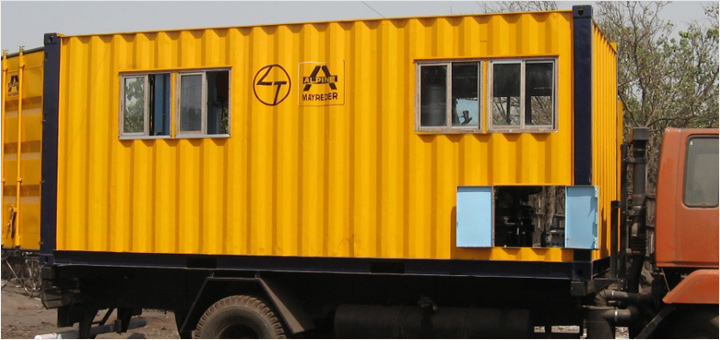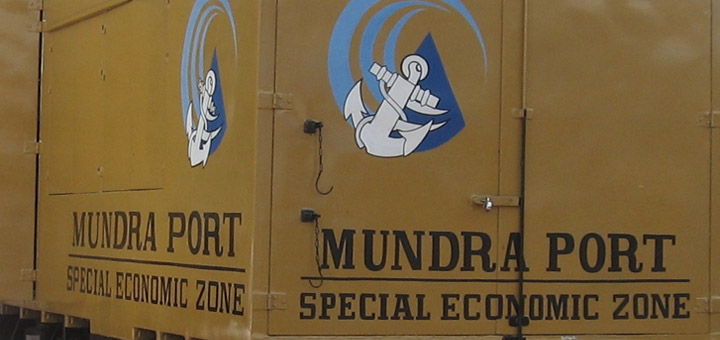 Following specifications briefly describe the equipment fitted inside.
POWER
DIESEL ENGINE
Upto 20 HP [Option: Battery Start]
SERVICE EQUIPMENT
PNEUMATIC
AIR COMPRESSOR
15 – 60 cfm & 7 to 13 kg/cm2 **
AIR RECEIVER TANK
160 to 400 ltrs.
PNEUMATIC SERVICE TOOLS
Pneumatic Oil Pump, Pneumatic Grease Pump, Pneumatic Diaphragm Pump, Pneumatic Torque Wrench / Angle Wrench / Ratch Wrench, Pneumatic Tire Filling, Pneumatic Grease Gun, Pneumatic Chipping Hammer, Pneumatic Screwdrivers & Other Pneumatic Hand Tools ..
ELECTRICAL
POWER ALTERNATOR
5 to 20 KVA
ELECTRICAL SERVICE TOOLS
Portable Welding Machine, Lathe Machine, Bench Drilling Machine, Bench Grinding Machine, Electric Motor Driven High Pressure Piston Pump, Hand Drilling Machine, Portable Cutting Machine, Halogen Lamps etc..
HIGH PRESSURE PUMP
1 to 7.5 HP.
WATER TANK
400 to 1500 ltrs
OTHER SERVICE TOOLS
Bench Vise, Hand Tools, Workshop Tools, Hand Operated Hydro Test Pump, Working Table, Overhead Chain Pulley Block, Injector Testing Machine, Cupboard / Tool Rack etc..
MISCELLANEOUS
Notice Board cum Scheduler & planner.
VEHICLE
407 / 902 / 911 / 1112 / 1613 / 2516 etc. of TATA, LEYLAND, EICHER,MAHINDRA, etc. Depending upon size & no. of service equipments used.
We use only the best makes such as KIRLOSKAR, CROMPTON, ELGI, INGERSOL RAND, BOSCHE, WOLF, BLACK&DECKER, ADVANI OERLIKON, ESAB, etc.etc. Customers are free to specify the makes and models of the equipments to be used inside the workshop. We can add or delete items and equipments as required by the site/customer needs, keeping the basic features intact.