Products /
Reciprocating Pumps
High pressure Reciprocating pumps/ Piston Pumps
range
Capacity
:
0.5 m3 per hour to 100 m3 per hour.
Pressure
:
Upto 20,000 psi [1,400kgs/cm2].
Sizes
:
outlet size 12mm to 100 mm.
Input Power
:
Diesel or Petrol Engine.
Electric Motor
:
Three phase or Single phase.
Voltage
:
From a wide range of input voltages from 110/220/300/400/440/500 Volts.
Pumps can be self priming upto 7 mts.
Features of Reciprocating Pumps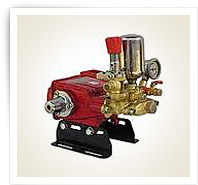 Single, double or triple pistons. [triplex pumps]
Working parts of various different metallurgy such as SS, Bronze, Duplex, CI, etc.
Max Temperature - 200° C.
PUMP FEATURES for special and rugged applications
Heavy duty for continuous application
Various different lubrication methods.
Optional sealing arrangements
Continuous duty.
With Gear Box or Belt driven.
Prime movers
Electric Motor/ Diesel Engine/ Petrol Engine.
Applications
Water jetting
High pressure cleaning[hydro jet cleaning].
Pressure testing of pipe line and pressure vessels.
Process applications
Seal Cooling
Cleaning of the ship's hull.
Vehicle washing
Construction and mining.
Offshore.
Boiler feed application
Concrete cutting by high pressure water.